TRUE LOVE
–
KFC asked us to show how much their fans loved their chicken. So we created a story that we thought would be outrageous and kinda fun. Then they told us that had actually happened. So here is a true story:
VALSPAR - COLOR FOR THE COLORBLIND
Valspar is one of the world's largest paint companies. But nearly 300 million people in the world are colorblind. When Valspar told us they wanted to stand for something greater than painting walls, we thought seriously about colorblind people. At first we wanted to help them simulate the experience of seeing color. But then we wondered what if we could, somehow, make them actually see color. In the beginning that seemed impossible, but it turned out it wasn't.
Posters for The Colorblind was series of special posters that specifically targeted the colorblind. They were displayed on paint stores along with a pair of glasses and were designed using only the Valspar colors that the colorblind have the hardest time seeing.
CONTOURS - THE BABY STROLLER TEST-RIDE
The problem with shopping for strollers is that babies can't talk to tell you what they like, and the average adult can't fit into a stroller. So we created an exact adult-size replica of a Contours stroller and invited parents to try it, showing just how comfortable they are for babies.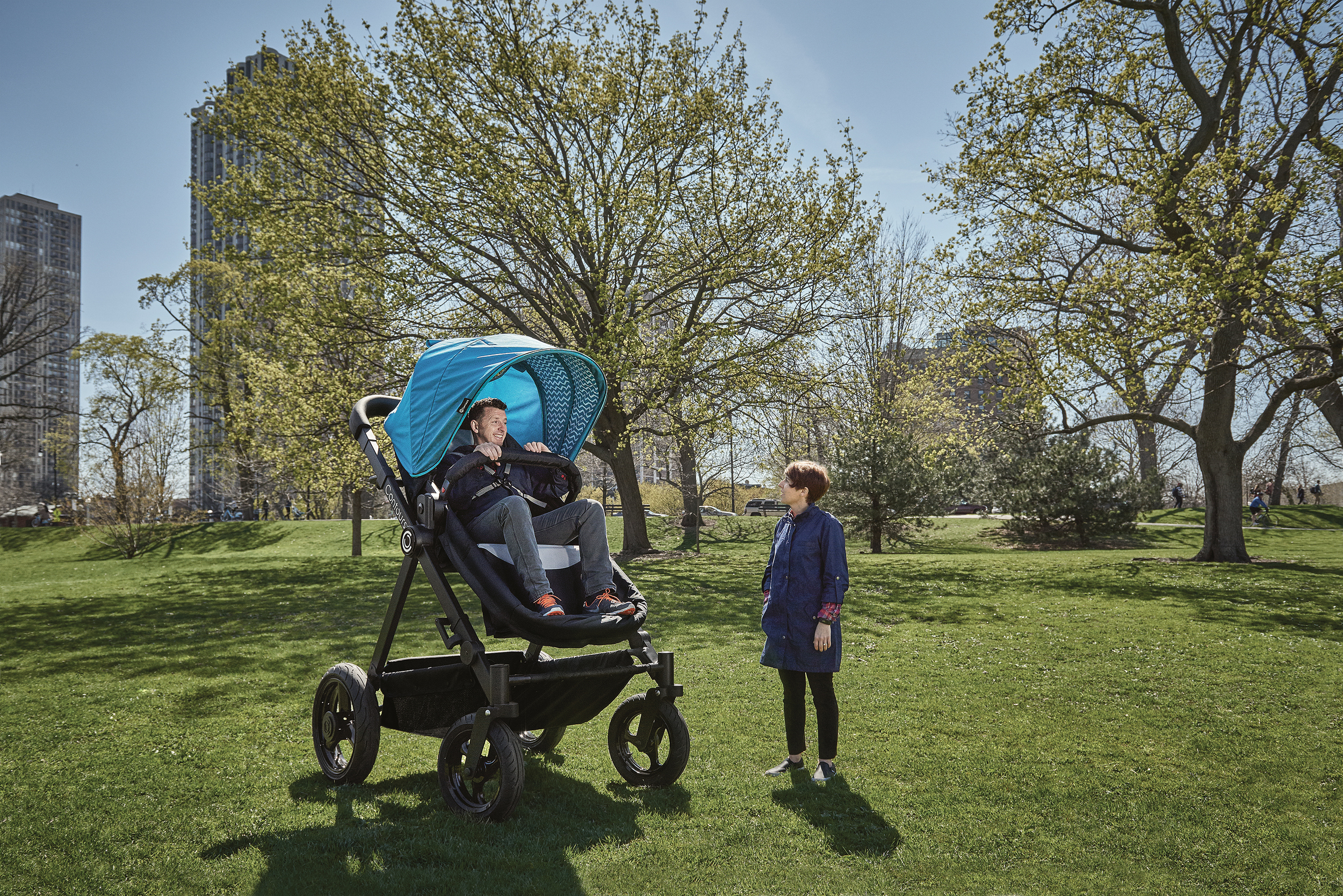 LOVE BETTER
Love Better is a line of products created for Valentine's Day that calls attention to a range of abusive behaviors that sometimes lie hidden under the guise of love. Our goal was to start conversations that would help people reflect on their own relationships and to ultimately promote a healthier way to love.
COPIC - THICK + FINE
Copic pen has a unique dual-tip feature. I believe that sometimes the best way to sell something is to simply show how it works. So I used the Copic pen and illustrated these myself!
TEDDY GUN
Did you know that in the state of Illinois there are more regulations for manufacturing a Teddy Bear than there are for manufacturing a gun? Yeah. It's crazy, I know. So to symbolize this lack of common sense we created the Teddy Gun. It was made to ignite thoughtful conversation and, ultimately, put pressure on congressmen. Now a gun regulation bill supported by our client is gaining unprecedented momentum in the state legislature.
JOE BOXER - INACTIVITY TRACKER
To promote Joe Boxer Pajamas we created a new wearable tech: the Inactivity Tracker. Like the Nike+, the Inactivity Tracker is a band that connects to an app. Unlike the Nike+, it rewards users for doing nothing and celebrates laziness. The Inactivity Tracker was launched with an event at a Kmart store in NYC and an hour-long ad about nothing.
KFC - CHICKEN CORSAGE
Young people nowadays don't care about KFC. It's not that they don't like it. They just don't even consider trying it. We had to come up with ways to catch their attention. Here is what we did:
EUREKA FACTORY
Eureka Factory is an ongoing personal project where I illustrate just for fun. It is about an elusive imaginary forest in which an imaginary factory exists. In this factory an imaginary version of myself works constantly, day and night, chopping magical trees that are processed inside the factory in a complicated and arcane way.
Visit the factory website here: http://eureka-dorietto.com/
USPS - LOVE MACHINE
In digital times everyone tends to communicate, well, digitally. For Christmas, USPS asked us to create something that reminded people how meaningful a physical message is. So we created the "Love Machine" - A device that gathers expressions of love online and creates unique postcards that would be delivered by the USPS.
REVERSE RUN
Colon cancer is the 2nd deadliest form of cancer in the U.S. but it's also the most treatable if detected early. But talking about colon cancer can be difficult because it's embarrassing. So we broke the ice by creating an experience that puts butts first. Literally.
KFC - TRUE LOVE
KFC asked us to show how much their fans loved their chicken. So we created a story that we thought would be outrageous and kinda fun. Then they told us that had actually happened. So here is a true story:
LEGO - STAR WARS
The coolest thing about Legos is that you can do whatever you want with them. You can build anything, create any story you'd like. Even when it comes to Lego Star Wars.